The very rare Islay Mist Aged 21 Years has been awarded a gold medal at The Scotch Whisky Masters – the international competition for whiskies run by The Spirits Business. All entries are tasted blind, and each whisky is judged individually by a panel of industry experts. The result is the oldest Islay Mist ever bottled winning gold in the blended whisky category.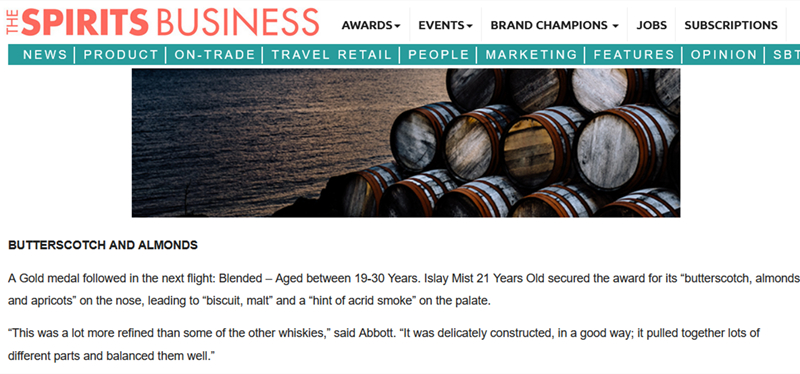 Worth the wait
It is a fitting tribute to a majestic whisky. "We have been waiting patiently and passionately for many years for a rare batch of malt whisky distilled at Laphroaig Distillery to reach 21 years of age." states Managing Director David Sloan and continues "When we blended this, we knew instantly this was unique and outstanding and to win this gold just confirms the investment in liquid, casks, time and people. We can be proud and will celebrate with a dream from one of these rare bottles".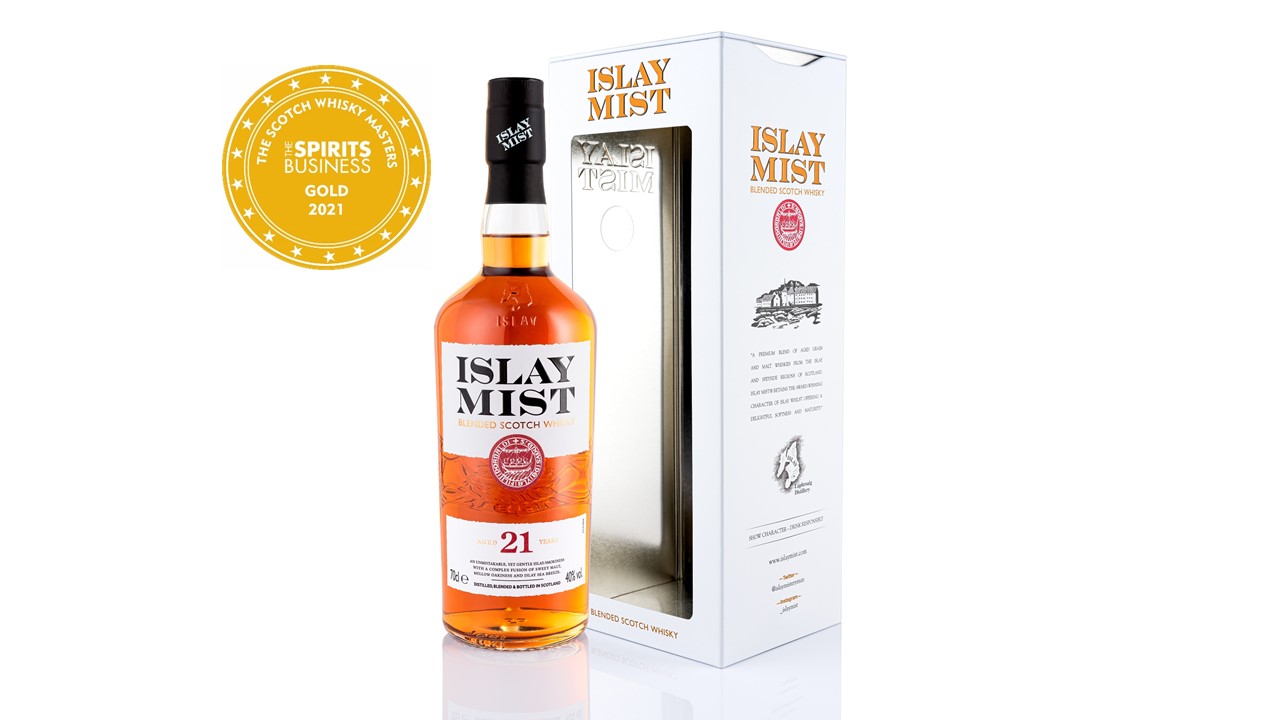 The parcel from Laphroaig Distillery forms the core of the 21 year old Islay Mist blend giving it its unique Islay smoke and peaty character balanced with twenty-one years old whiskies from the Scottish mainland. After 21 years of maturation and evaporation there was only enough for 2160 bottles of the oldest and rarest Islay Mist ever to be sold. Around half of the batch has already been sold.  
Gold again
"It's a jewel – and you can quote me on that"says whisky writer Dave Broom about Islay Mist in general. We agree. With its balanced Islay peaty character Islay Mist has a habit of securing golds from a wide range of competitions judge by judges with very varied palates. The gold from The Scotch Whisky Masters follows recent golds for the other Islay Mist variants; Original, 8 Year Old and Islay Mist 12 Year Old from Women's Wine & Spirit Awards, International Spirits Challenge, International Wine & Spirit Competition, San Francisco World Spirit Awards and World Whiskies.

NOTES:  
Islay Mist was created on Islay in the 1920s using whisky from the Laphroaig Distillery and a handful of choice distilleries from around Scotland. Initially blended to balance the local smoke for the 21st birthday celebration of the son and heir of the then Lord Margadale, this gold-medal winning whisky still carries the seal of the Lord of The Isles. Staying true to the founding recipe, Islay Mist remains the original peated blend with characteristic balanced smoky and peaty tones between layers of mellow oaky maltiness.
Did you know?
-According to The Scotch Whisky Association no other blended whisky can use the word Islay in its name.
-The Island of Islay has just over 3000 inhabitants and currently has 9 legal distilleries.